The British Petroleum Oil Spill Firefox Plug-In
Thu, Jun 3rd, 2010 23:30 by capnasty
NEWS
Creative agency Jess3 has developed a Firefox plug-in that aims to black out all mentions of BP (British Petroleum) across the web. With the plug-in installed, the word is blacked out and oil drips down.
These are the current terms it matches on (case-insensitive):
BP (and BP oil, BP gas, BP worldwide, BP solar, BP global, BP PLC, BP P.L.C., BP.com)
Transocean (and Transocean LTD)
British Petroleum
Gulf Oil Spill
Deepwater Horizon (and Deep Horizon-- some blogs have inaccurately mentioned the platform by this name.)
This is what it looks like when installed, when you search for BP.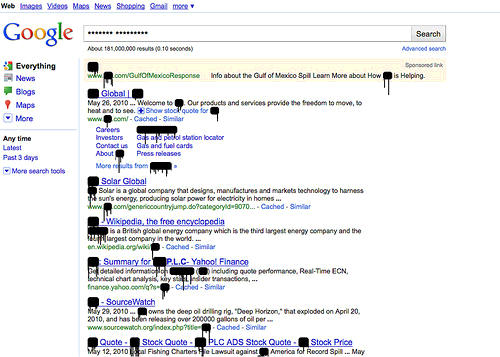 1028
You may also be interested in: