Bixi, the Bike-Sharing Plan, Launches in Toronto
Tue, May 3rd, 2011 21:00 by capnasty
NEWS
Despite today's rainy weather, cyclists accompanied city councillor Denzil Minnan-Wong on a morning ride to celebrate the arrival of the public-private partnership behind Bixi, a bike-sharing program that started today in Toronto. Bixi's goal is to increase ridership and promote bike-riding within the city's core by providing affordable and accessible use to bikes.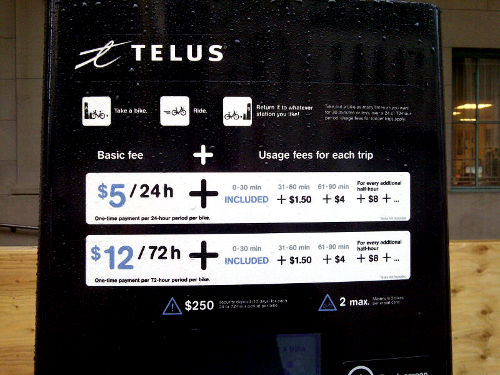 Details on usage fees.
The idea behind the system is pretty simple: buy yourself a pass, pick up a bike at one station and drop it off at another closer to your destination. Your first 30 minutes are included in your membership, otherwise usage fees apply. Passes cost $5 for one day, $12 for a three-day pass and $40 for a 30 day membership; meanwhile, $95 gives you a year long subscription.
Those who get the $45 or $95 membership get a Bixie-key, which allows them to access any bike on the network -- 1 to 3 day pass holders have to enter a code each time. The system, which is completely autonomous, is touchscreen-operated, only accepts credit cards and comes complete with a button to notify Bixi mechanics of defective bicycles.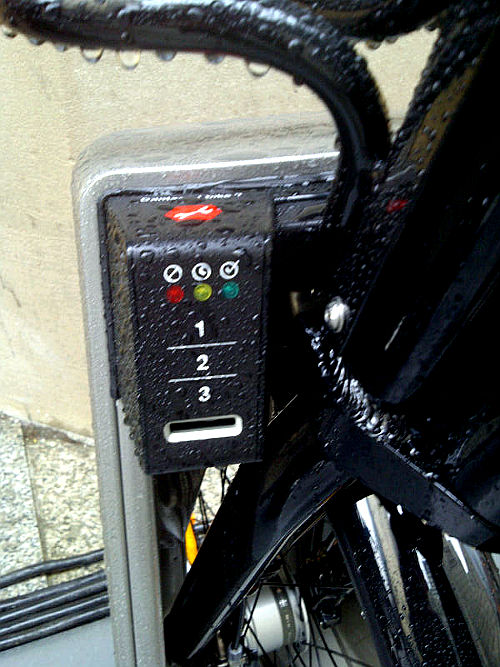 Where the
Bixi-Key
is inserted; note the button to notify
Bixi
's mechanics
Aside from the health and environmental benefits, the Bixi program is Canadian. It started off in Montreal in May of 2009 and since then has successfully expanded to Ottawa, London (U.K.), Melbourne, Minneapolis and Washington D.C. Personally, it's about time it finally made it to Toronto.
2431
You may also be interested in: