Obituary: Osama Bin Laden
Mon, May 2nd, 2011 00:56 by capnasty
NEWS
Mere hours after Obama's announcement that Bin Laden had been killed, the New York Times posted this rather comprehensive obituary on the world's most famous terrorist leader -- and how he became so:
Terrorism before bin Laden was often state-sponsored, but he was a terrorist who had sponsored a state. For five years, 1996 to 2001, he paid for the protection of the Taliban, then the rulers of Afghanistan. He bought the time and the freedom to make his group, al Qaeda -- the name means "the base" -- a multinational enterprise to export terror around the globe.
The Economist, one of my favourite magazines of all times, has a great obituary as well, written with their usual style and lavish use of fancy words:
WHEN he gave interviews to foreign journalists, which he did rarely, Osama bin Laden had a way of looking down at his hands. This, and his soft, slightly raspy voice, and his gentle eyes -- as well as the fact that he allowed no instantaneous translation -- helped conceal what he was saying: that it was the duty of all Muslims to kill unbelievers, especially Americans, and that when he had seen the bodies of the infidels flying "like dust motes" on September 11th 2001, his heart had filled with joy.
Just as quickly, the Osama Bin Laden is DEAD Facebook page came to life -- and already has an impressive number of followers.
Meanwhile, GOP-supported Fox News seems to be getting confused: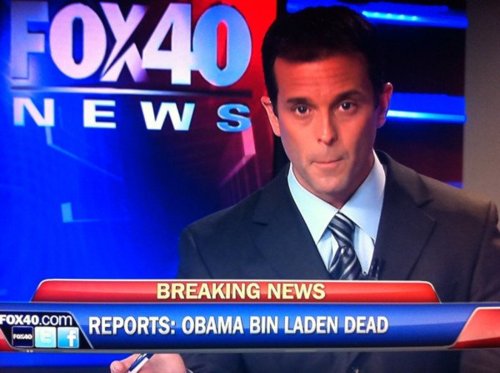 OBAMA Bin Laden?!
Here is President Obama's announcement:
You can also see Osama's hideout on Google Maps.
1747
You may also be interested in: