Detroit Needs a Statue of Robocop -- You Can Help!
Thu, Feb 17th, 2011 10:00 by capnasty
NEWS
It all started with a tweet pointing out that Philadelphia has a statue of Rocky Balboa, so why shouldn't Robocop -- who would so totally kick Rocky's butt -- be Detroit's ambassador? Unfortunately, Mayor David Bing didn't quite see it the same way: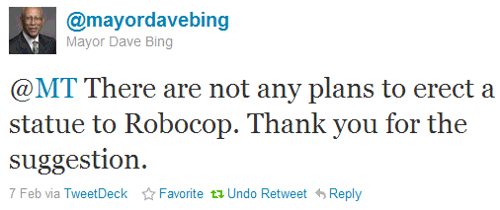 But that's okay: the Imagination Station, a non-profit organization aiming to support artists and social events in Detroit, has decided to get funding and build their own statue! Think you can help?
1388
You may also be interested in: