Dead Drops: USB Keys Cemented into Walls
Fri, Nov 5th, 2010 10:00 by capnasty
NEWS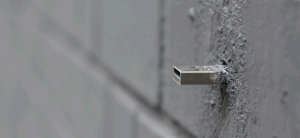 Here is an interesting art project that combines art with technology. Dead Drops is an anonymous, offline, peer to peer file-sharing network in public space. Aram Bartholl is 'injecting' USB flash drives into walls, buildings and curbs, located in public spaces accessible to anybody.
All you have to do is find a dead drop in these places, plug your laptop to a wall, house or pole to share your favourite files and data. Each dead drop contains a readme.txt file explaining the project.
Check out Aram Bartholl's page here for more info and photographs of the dead drops.
1236
You may also be interested in: