The Interstate 75 Project
Wed, Nov 3rd, 2010 11:00 by capnasty
NEWS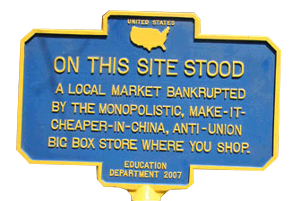 Staring on Memorial Day of 2012 and through the presidential election of that year, artist Norm Magnusson is planning on placing a series of fake historical markers all along Interstate-75, a lengthy 1,775 miles highway that starts at the Canadian border and works its way through the United States, peppered with about fifty rest-stops in between.
The historical markers appear official enough, but rather than simply highlight an historical detail or curiosity of the world to the casual reader, Magnusson's markers contain political and social observations. He calls this the art of social conscience.
"My goal is not to incite", he explains, "but to inspire thought amongst those who travel on this route."
930
You may also be interested in: