Things Your Mother Should Have Told You As A Child
Written by David Dylan
After writing 'Things My Father Should Have Told Me As a Child' I was ostracised from the dating community. Gangs of irate feminist protesters throw rocks through my windows, men the world over have taken out contracts on my life, hackers have invaded my computer and ordered bondage gear in my name. My Mac refuses to boot (but that may be due to a botched Linux install), Girls I dated all call to ask if I meant them (yes) and girls I never GOT to date called to ask if I meant them (yes, too). Models refuse to work for me and rumour has it that the W3C is changing all the standards so I'll be out of a job.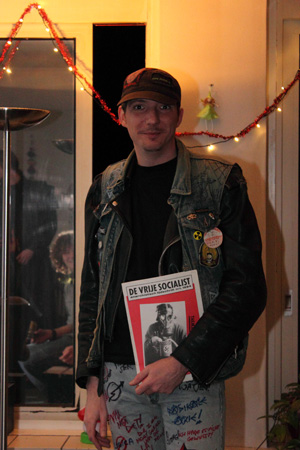 But they didn't find this picture, or I would be in real trouble.
Also, some people got mad at me.
So, I sit here, home, alone, pondering my errand ways. For starters; all humour aside, this piece was about general observations, not anyone in particular. If you feel the shoe fits, well... ask yourself why. Also, this piece was not about the minus 25 age bracket. Rules are different there, I vaguely recall. And if I take out my wallet for someone in that age bracket, it's not a "let me pick up the tab" thing, but a "you are broke, I'm not" thing.
Someone suggested I should write my piece aimed at women. I felt it not my place, as a proud penis-bearer (last time I looked), to tell women what's what. But, having loads of time to think about it inbetween cancelled booty-calls, I did come to see the merit in sharing some male insights with the non-male crowd.
So, here goes. Ave Imperator, morituri te salutant.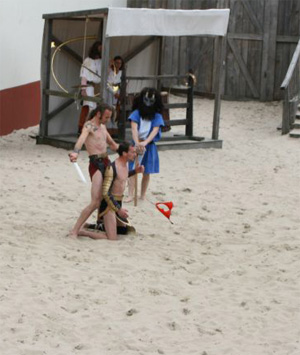 I know how you feel, buddy.
Things Your Mother Should Have Told You As a Child
Feminism is a double-edged sword. It took us only a few centuries, but us guys have come to accept that you are our equals. For the most part. In polite society. In the west.
You want equal pay. Fine. You want to be treated equal, no issues with that. You want the toilet seat up... well, ok. But with great liberation comes great responsibility. The fact of the matter is that many societal norms and customs were replaced with... well, nothing. But they were not all asinine and dumb. Within context, that is. Many of the role models and restrictive rules were aimed at protecting you from rape, battery, wearing colours that do not match. You want to put your elbow on the bar and hoist your glass like one of the guys? Fine, know your limits like one of the guys. And herein lies the problem; many, many, women do want the equality when it comes to the benefits but also want to stand around with big puppy-eyes going "ooh, you are sooo strong" when we fix the drain. A thing, as I noted about computers in my previous piece, we also not use our penis for.
When we point out the above, we run the risk of getting detached from our man-parts, as evidenced by some of the responses I got on my previous piece. But try to deny it, please do. I can list a number of co-workers, ex girlfriends, dates and just general female friends who are exactly like that. Women with otherwise exemplary non-role-model lives, soldiers, managers, factory workers...
The equal pay is earned with equal performance. Please find the WiFi settings on your own, thank you. I will say this once, and only once; the thrash goes at the curb and a blocked drain means there's stuff in the pipe. Pipe screws loose, stuff comes out, pipe screws on again, it's a simple three-stage process and does not involve any act for which external sexual organs are required.
I will be clear about this; as far as I'm concerned the differences between men and women are purely biological, and even those differences mean Jacob Excrement in daily life because averages are a fiction.
Just do not cherry-pick your liberation.
On with the insights into the male psyche...
While men have, on the whole, learned to do the dishes and put up the toilet seat, a surprising number of them still think that bars and clubs are the rock of Gibraltar, and they all want the top spot. A liberated man will not play their game. While that may be the high road, ape-men perceive this as weakness, and some of them will pounce. Bear this in mind when you go act all liberated. You may, no will, get your man in trouble over stuff you do because a) some type of ape-men still hold the man accountable for the woman and b) all ape-men will want to fight (often literally, physically) for their spot in the flea-picking order. If the man you are with seems uncomfortable with you returning the attentions of another man, please stop to think that he may well be anticipating some sort of contest over your attentions, and if the guy you are talking to is of a particular type, this contest may not be over who gets to buy the next round but over who gets to put his penis inside you; forcefully if you are very unlucky, and do not play the ape-game.
The chances of your male companion getting in a fight in a bar increase exponentially with the perceived beauty of the female he is with. See above. If you feel you are your 'own person' and can talk to whomever you choose in a social setting, you are morally absolutely right, but you also undertake the moral obligation to learn to spot the ape-men on your own. Please allow your male companion to advise you, as a guy, he knows the signals better. Also, if your companion took you to one of his dives, realise that you are on another tribe's ground. Very subtle differences may exist that you are not aware of but which might have serious implications.
For example; it is not uncommon for men to surreptitiously approach your companion and ask if you are 'with' him. If he answers 'yes', these men will not speak to you. Don't get mad at the guys, either one of them, but realise that they are acting according to mores older than you are. Also realise that not acting according to these mores not only means they would invite scorn from other men, but from many of your fellow women as well. If you gals get together and change the rules, fine, please let me know because I didn't make them, either.
Not to defend the rules, or the men who actually like them that way, but I have had this conversation once, literally (translated):

Drunk metalhead: That's a hot chick.
Me: Yeah.
Drunk Metalhead: She came with you.
Me: Yeah.
Drunk metalhead: too bad, I would have dragged her out back right here.
Me: Not if you value those spikes you are wearing outside of your body.
(OK, I might have used the words "ramming", "up" and "arsehole".)
(guy backs off)
Girl in question, some time later, nodding at same guy: Finally we are at a bar with cute guys.
Me: sigh.

This is no dig on metalheads, Lemmy is the coolest guy I ever met, Slayer still the best live act south of New Model Army. But it just so happens that in rock circles the ape men are still a bit more outspoken about their simian tendencies. At least, that is where I witness them most.
Any good looking woman will have a number of men circling like sharks, waiting for an opening to her heart, if they are honourable, and her bed if they are not. Women are, surprisingly, oblivious to this fact or they pretend to be. (Edit: as a friend pointed out: because if they don't, the sharks will see that as an opening, and be impossible to get rid of.)
Men can be very persistent in this behaviour, amongst others because most of these circling sharks circle more than one swimmer at a time. She may think they like her for who she is, but I dare you to change your Facebook status to 'single' for a few days.
A few pointers:
Your 'best friend' may, I just said MAY, secretly have other ideas.
That nice guy from (the LARP club / Gospel choir / Sewage systems appreciation society / etc.) may, just may, not invite you over to his house to talk about how I'm not fixing the drain properly.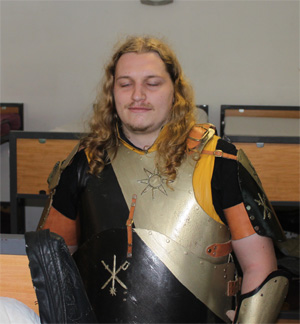 Shit, busted!
If you find that people go out of their way to get you some place without your man, they may be trying to set a mate up. I've seen it happen.
A few simple rules:
If your 'best friend' gets too free, I will say something. To you. It is your responsibility to judge the situation and act accordingly.
If you accept an invitation for dinner / drinks at another guy's house, for which I was explicitly or implicitly not invited as well, I will see it as a sign of infidelity if you accept.
If your guy was refused or not invited for some activity, and you were, think really hard about what qualifications you bring that he doesn't. If those qualifications are measured with a tape-measure, refuse. Out of respect for your guy as much as yourself.
Tactics the circling sharks employ:
Any chance they get, to get you away from the guy you are with, they will take. Favourite standing spots are; a bit further down the bar (where they can scoot over towards you when your guy goes to the toilet), next to the toilet (because the DJ stand is there, you know) where you are sure to pass at some point.
Inviting you to join any activity which they themselves just happen to participate in. Your guy wouldn't like it.
Always present for whatever social gathering you organise.
Always ready to 'empower' you when you are in any sort of disagreement with your guy.(Hey, you may dump him this time.)
Invitations always reach just you. Of course your partner was included, said innocently.
Your bestest friend.
If in a situation where you haven't actually chosen a mate, but someone other than themselves appears to make headway, they will ever so subtly criticize the other guy; pointing out his flaws, talking to your friends about how he's (too old / too eager / too etc.) for you. If at all possible, painting a picture of him that makes him seem less honourable in his intentions than he may be.
Employing the assistance of your friends is a very popular, and very effective, tactic. Your friends may hold reservations towards your choice in partners, in fact, count on it. He will mine these reservations for all their worth. The particularly cunning shark will make sure that the criticisms of the other guy reach you not through him, but through your friends.
Now, this may disqualify me from the gene-pool because no woman reading this will probably accept my Y for her X, but I've been on both sides of this game, so please accept me as an authority.
Honourable men will be clear about their intentions. These are the codes:

"A cup of coffee" ? A possible prelude to a date. He wants to find out if his first impression of you was correct, if you are seeing someone, and get a chance to ask for a date in a relaxed atmosphere.
"A few drinks - no strings attached" - As "A cup of coffee" but more advanced stages. If "A cup of coffee" goes well, may be skipped.
"A few drinks" - A date. There can be no confusion, although in many women there still will be. Just accept this from a chromosome-deficient person: the guy WILL see this as a date.
"Dinner and a movie" (Or anything equal in cost/effort) - A date, and if there's still any confusion, please, say so before he orders the most expensive thing on the menu to impress you.

Now, let me be absolutely clear about this; men will assume you know these codes. Turning around afterwards and claiming you were thinking this was some sort of "Will-and-Grace" friendly thing puts the guy in a position where he is, essentially, accused of luring you into the situation under false pretences. It may well take a date, or more, for you to decide that things aren't working out. Fine, but be straight about it and just say so. Yes, you will hurt his feelings, possibly crush his ego, but you will not leave him feeling like a slimebag for no well-deserved reason.
If you want to be friends afterwards, and especially if you know beforehand, say so. We men do think with our penis. We aren't thinking "wow, she has really intelligent stuff to say". For me, intelligence IS a prerequisite for dating, but that does not mean I'm not plotting a quickest route to your bed. And you know, I care only for intelligence because bed may lead to relationship, the other way around is not as expedient as I would prefer but also quite ok. So, friendship will be just fine, after I get used to the thought of not sleeping with you for a few days. OK? Great. Nice to have that cleared up.
Now, if a guy does not care for friendship, well, throw the shark back, eh?
Now, things may get a bit confusing after the initial first meeting. But this is the golden rule: ANY informal meeting after "A cup of coffee" counts as a date. Any meeting after "A few drinks ? no strings attached" counts as a second date, even though neither of those on their own count as a "first date".
Also: ANY informal meeting where either of you pick up a tab that runs over $ 50,- counts as a date. If you do not want it to, a bright young lady will split the tab.
The initiator of the date picks up the tab. No splitsies unless either one wants to send a very clear signal that the only open door leads to the "friend zone".
Edit: As a friend pointed out; this may betaken to mean that I think that any date that costs over x amount means the girl has to 'put out'. By no means do I think that, but many guys do, and it is good to be aware of this fact. If you feel you need to extract yourself from a situation where a guy may decide to try and get you to repay his monetary investment in the evening, there is a tried and tested tactic: Arrange for a friend to call you at a given time. If all is fine, just pretend on the phone it was a social call. If it is not, ask him or her to pick you up in neutral terms and make an excuse about your cat being ill or something.
Communication is a major issue between men and women. Some phrases that lead me down the wrong path, even though I thought they were perfectly clear:

"I really like you."

I meant: I think I may be falling in love with you.
She heard: wow, he thinks I'm a nice person.

"I want to get to know you better."

I meant: sex, now, please. Please. I'll beg.
She heard: I want to get to know you better.

Some phrases women have used that I utterly failed to read completely different from what they said, as I obviously should have:
"I am shy."

She meant: I'm not going to return your affections, but please do keep trying for a while.
I heard: ok, I'm going to have to make the first move, and she is kind enough to let me know.

"Lets just see where it leads"

She meant: this is not going anywhere but the friend zone.
I heard: hot-diggitty! I still have a shot!

"I'm just looking for that deeper connection, you know."

She meant: I just want to fuck good looking apes, but you obviously want to think of me as a 'better person' than that.
I heard: hot diggitty! My IQ is over the ape-mark, that's me! It has to be!

- Mummy, why is he saying such mean things about us?

- Because men are bastards, honey.

Now, about dating those apes. You are free to do so, but please, be aware of the implications.You may think that the nice, non-ape, guy who is always there to listen to you and let you cry on his shoulder when the last ape beat you up / raped you / 'forgot' a condom / dated your sister, and so on, is just a really good friend with a sex life somewhere where you can't see with other girls who are the female equivalent of a nice guy. Sorry to burst your bubble, but, no. Unless he is gay, he wants you. Of course there are exceptions, but lets face it, you must have something he likes or he wouldn't be there, and single guys are like missiles, once fired they are going to explode somewhere and for as long as you make yourself available in even the slightest way, you are a potential target.
And, you know, that is not such a bad thing. Obviously he is prepared to put in more effort than 'hey babe, wanna see my hotrod' so, you know, you should keep the option open that he's a far better suitor than the ones you've been picking. If we get past the whole 'wanting you is bad in some way' thing you seem to have towards these nice guys, because if you want the cool cute rocker; why deny him the right to want you for perhaps a lot better reasons that just your bra-size, too?
Lets get past one thing right here; yes, guys want you for your body. Guys like sex. You do, too. Not liking sex is like not liking eating. It doesn't exist. Not in mentally stable people. You may not like fish, or have a morbid fear of mushrooms. And if that's all you've been served in your life, fine, eating may seem like no fun. But everybody eats, and there's a dish out there for all of us.But for some reason many of you seem to hold it against the nice guys that they want you, while simultaneously having no qualms about acting on your own baser desires, based on equally or far shallower criteria with guys who really only want you for your body.
Get over it.
Whether or not the 'nice guy' is upfront about his intentions, if you habitually pick out the cute ape for sex, and then the nice guy for the good cry as desert, then you are using people. Using people for sex, if it's a mutual thing, is not very noble but it is your choice. Using people as support so you can keep on your self-destructive path is morally, ethically, and just humanly wrong.
I, for one, when I detect this behaviour, walk. Mind you, please do tell me about your exploits with the next muscle-ape. Good for you, if you can handle yourself and are having fun. But I'm like a lamp-post: I'll gladly illuminate, but I'm not, intrinsically, there just for support and I do have my own mental and physical well-being to take care of.
I hear a lot of women ask, often in desperation, how comes they always wind up with the wrong guy. Well, it is very simple; you go looking for them. I did this, for a while, too. When I saw a woman, on some mental level I would try a template on her for size. The template was an ex I just wasn't over yet. Wrong colour hair, wrong age, wrong taste in music... all things that are fairly inconsequential to finding a good partner, but I had this sortof half-painted picture in my head of what type of girl I liked, and I probably passed a lot of good women by because of it.
If you are a habitual wrong-guy-dater, then this is what you are doing. You are painting some ideal picture in your head, be it of the cool rocker, the yuppie earner or the frat boy, and your template leads you straight back into the shark-tank hoping you'll catch the one dolphin this time.
Good, on to some more rules for not chasing away the non-rapists:
Please do not try to keep up with the guys drinking. We may joke about John, the guy who is always carried home, but we don't want to sleep with John.
A guy who has sex with you when you are drunk is, at the very least, taking the chance that you wouldn't consent when sober. This is the mark of a rapist.
A condom that gets forgotten, 'breaks' (and doesn't get replaced), or any acts performed you might not consent to when sober constitute rape. You've been raped, and if you go back to the same guy for more, you are not only doing yourself but all women a disservice by encouraging this behaviour.
Violence of any kind is a relationship-ender, right then and there. If you stick around with a guy who commits acts of violence towards you, well, see above.
Having sex with a woman while leading her to think you want something else out of the relationship than you actually do, is rape. I wrote this in my other article, and I stick by it. If I would lead you to believe that we were in a relationship, only to dump you in the morning, I have taken by fraud what others may take by force. An armed robbery, or a stock-market fraud have one thing in common; it is stealing.
Avoid guys bragging about:
Any martial arts, handling firearms, brawling or any other activity which you may mistakenly think makes them tough guys. You see; real martial artists, shooters, navy-seals, and so on have nothing to prove.
Their ability to hold their liquor. If that is all they have going for them, well... Besides, drunk guys suck in the sack.
On that note; many shark tanks are actually dolphin tanks. It's just that sharks like to bask in the dolphin-glory because girls fish for the dolphins. For example, the music world. I know the music world a bit, having been editor of an underground music magazine. What goes on in bands' dressing rooms is: showers, changing clothes, getting ready to get on the tour bus. What goes on outside is loads of mentally deficient, otherwise uninteresting and usually ape-guys mimicking the band's style, sometimes working in menial support roles that require heavy lifting and an ability to not beg Lemmy to sign their boobs. These jobs pay shit. If anything at all. They do it because... it gets the girls. (I'm not talking about sound engineers or dedicated roadies and so on, those guys are usually hard-working, well-educated and/or talented musicians themselves. And their jobs pay shit, too, and you should respect them.)
If you fish in that dolphin tank, be aware that the dolphins do not want you. You see, a dolphin doesn't want to be wanted for his cool long hair and tats. That's kinda the mindset that makes him the dolphin. The guy who is happy to let you admire his cool rocker style and ability to hand Ozzy a drink on occasion, well, he's the shark. Decide what kind of bait you want to be.
Any martial artist who tries his moves on you, is marking his ape territory and you as his property. Also, probably not a very good martial artist. Good, dedicated, martial artists keep their moves on the mat. It's a matter of honour for them.
I'm an amateur photographer. You'd be amazed at how many guys there are with a mid-range DSLR and Lightroom, who only seem to take pictures of young women. Do not get involved with them. Too many are the first-hand accounts I heard about "just taking a bit more off". Serious photographers might well want to take nude shots. They are artistically interesting to do. But they will be clear and upfront about the planned session. How to tell a fake:

Any camera that does not have detachable lenses.
A portfolio with only young, nude or semi-nude models.
Bad pictures, plain and simple.
Heavily photoshopped pictures.
Pays no attention to setting, lighting and pose.
Gives only compliments. (I will tell a model her make-up sucks, or her pimples will need to be retouched out. It's not about flattering her, it's about result.)
Does not want to see your prior work.
And probably a lot more. But the main danger sign is: does not want you to bring someone along. I work in my living room, inviting strangers is uncomfortable for me, yet I know that undressing for a stranger is even more uncomfortable for the model.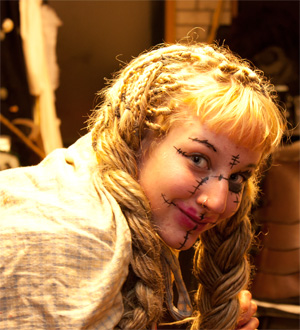 Love the eyeshadow! Now show me some skin!
One last thing, which I'm going to copy verbatim from a friend on a mailing list, because she said it spot on and it needs to be added even though I wouldn't have thought of it:

"An intelligent woman will assume that all men are simply trying to getinto her pants and will act accordingly. If you are at a club, you donot take a drink that has been handed to you by anyone other than thebartender or waitstaff. If you are at a party, you do not take a drinkyou did not pour yourself. If there is any doubt as to the safety ofthe liquors, stick with individually canned or bottled drinks that youpersonally opened. You do not leave your drink unattended. If you havetaken your eyes off your drink, you assume it has been tainted. Drinksaren't expensive enough to risk your personal safety. This applies toboth men and women. Of the people I've had to take to the ER fordrugging, 3 of the 5 were men."
Feel free to join the queue now, castrating starts at ten.
Metadata:
ID: 5694
Type: 2
Title: Things Your Mother Should Have Told You As A Child
Subtitle:
Author: David Dylan
Author ID: 109
Date Posted: 2011-02-20 22:54:42